Lime has accumulated world class proprietary electrospinning technology know-hows with extensive patent portfolio related to manufacturing technology, secondary processing of nanofiber over the past decade. Below is a description of how nanofibers are produced by electrospinning.
Electrospinning is
emission phenomena of fine fiber from water droplets on the surface when
a voltage is applied to droplets hanging at the end of the capillary by surface tension.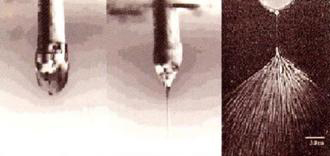 The polymer solution forms equilibrium between gravity and surface tension at the end of the capillary that is located vertically. The polymer solution dangles as the hemispherical bubbles form, and as the electric field is applied, a charge or dipole-orientation is induced on the surface of the air and polymer solution at the surface as it becomes hemispherical shaped droplet.
This causes the opposite force to generate surface tension. Accordingly, hemispherical surface of polymer solution at the end of capillary increases the conical shape known as the Taylor cone. Lastly, opposite electric force overcomes the surface tension in the critical field strength, then a charged jet of polymer is released from the end of the Taylor cone.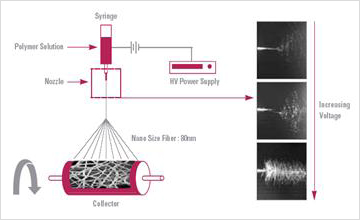 When the charge is accumulated on the surface of the polymer solution, one of the initial jets is divided into several smaller filaments by charge repulsion. The jets get thinner as they get released in the air. This process is called 'splaying'. During the process, the polymer solution is volatilized and the jet becomes a series of thin filaments by the elongation and splaying phenomenon. As a result, continuous nanofiber is accumulated on the collector.

As a result, Lime was able to create very thin yet evenly distributed fiber diameter nanofiber and nano membranes by its own unique electrospinning technology.
Raw materials
Lime can use a variety of polymers to produces nanofiber such as PAI (Polyamidimide), PES (Polyethersulfone), PVA (Polyvinylalcohol), PAN (Polyacrylonitrile), PS (Polystyrene), bio polymeric compound such as Gelatin, Chitosan, Collagen, PAA (Polyaramide), PLA (Polylactic acid), PCL (Polycaprolactam).
Advantages of utilizing Lime nanofibers is that it can be applied to a wide range of materials, able to use various polymers for specific applications and they have superior uniformity of fiber diameter and pore size.